What's happening in 2016...
Well, we're still here and still waiting for a decision on the lease but we're planning for a healthy future for the site and allotment holders in Hungerford.
January 2016
After the awful news just before Christmas plotholders were urged to attend Council meetings in the new year and turned out in force. The Council meetings had never been so busy and we kept the Newbury Weekly News busy.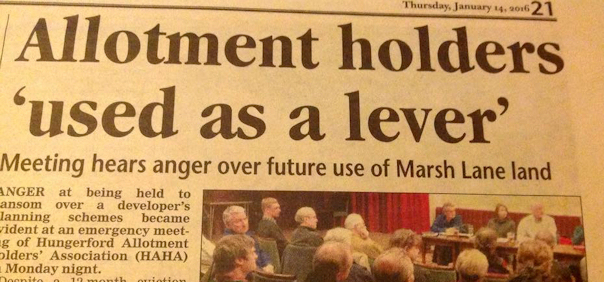 An extraordinary general meeting was held and very well attended by concerned plotholders and local councillors. By this stage the site owner had granted a further year's reprieve - as has happened throughout the time on site.
With all the meetings, emails, publicity and discussion it was good to have a get-together to enjoy rather than debate - so, we had a HAHA versus Royal British Legion skittles evening. The turnout was brilliant and made a substantial sum which was passed to the Royal British Legion. We hope to have another event later in the year.
We did get some time to get to the allotment and this is a photo of one of the very few frosty days of this Winter.
February 2016
By February the plotholders who decided to stay on were beginning to play catch-up. Work that should have been done in Winter was in need of doing but February was a very wet month and made it difficult, plus there was definitely a lack of motivation because of the bleak future.
However, a sunny day can make a big difference to attitude and we did get a few.
March 2016
March wasn't very Spring-like, but some of the flowers knew it and made an appearance even if they hadn't been looked after over the Winter!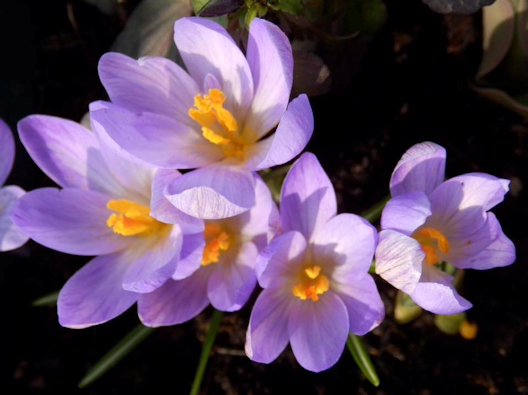 And, although it may be short-lived the committee felt that it was better to erect the new stable rather than leave it to go rotten, so we now have a second storage area.
April 2016
The reason for our current lease issues is the planning policy so we were pleased to see this amendment to the West Berkshire planning document - it gives us hope beyond the lifespan of the Marsh Lane site. The committee are investigating other prospective sites around town.

Still making headlines...
And the sight to cheer any allotment holder - a big pile of manure! £1 a barrowload for lucky Marsh Lane plotholders :-)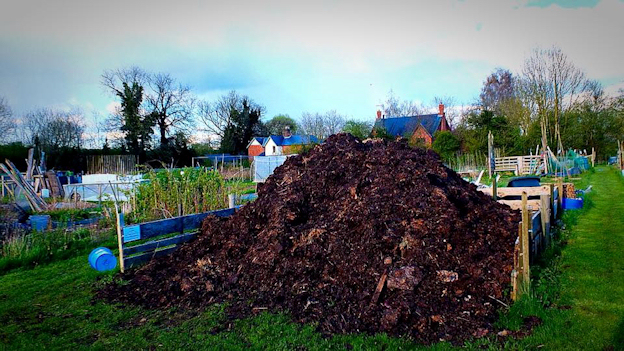 May 2016
May was another wet month, but there were sunny episodes so we saw some dramatic skies. News on the future of the site and further news on the permanent site availability will not be expected until after June, at the earliest. Plotholder numbers are definitely down and there is definitely a short-term view to the future of our plots, but we're enjoying the site while we still have it.
Good weather for growing though!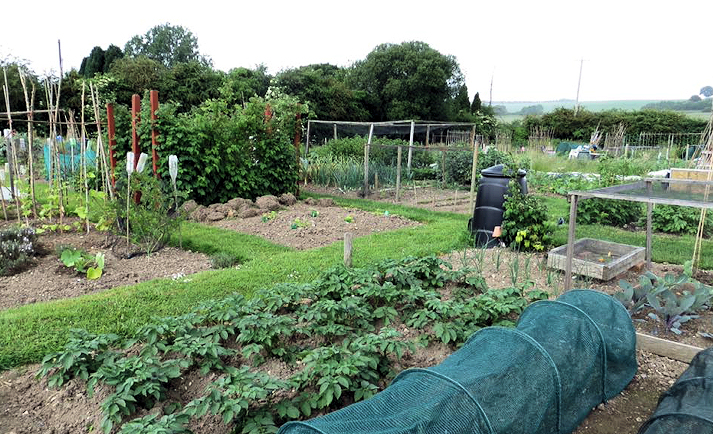 And the return of some old 'friends'...
June 2016
June's the new April, with heavy, heavy showers interspersed by bright warm sunshine.
The potatoes are flowering and seedlings are popping up all over site; some aren't lasting long because of the huge number of slugs and other unwelcome guests.
July 2016
The HAHA AGM was less well attended than previous years, mostly because plotholders are aware that no decisions about the site's future are forthcoming yet. Geoff (Chairman) and Ted (Treasurer) along with other committee members were thanked for their on-going work and all agreed to remain in their current posts.
Slugs were still a problem in July, but it didn't stop some plotholders from having beautiful plots full of growth. Congratulations to this year's Hungerford in Bloom (Allotment) winners!
| | |
| --- | --- |
| 1st Place: | Neal Pike |
| 2nd Place: | Ann Prestoe |
| 3rd Place: | Ken & Liz Hall with Lee & Helen Moyle |
| Very highly commended: | Robert James |
| | Belinda Robinson & Jamie Hieatt |
| Highly commended: | Glen McKenzie |
| | Forbes Stephenson |
| | Ed & Sally Westaway |
Neal's prize-winning plot:
August 2016
The second Horticultural & Handicrafts Show run by HAHA/RBL Show was an even bigger success than last year.
Over 400 entries and the first year that HAHA presented the RHS Banksian medal - won by plotholder CHRIS TOUT.
September 2016
A return skittles match between RBL and HAHA members was held, It wasn't as well attended as previously, but those who joined in had a fun evening.
October 2016
The HAHA stall at the Hungerford Food Festival was beautifully stocked with quality fruit and vegetables provided by generous plotholders.
And, as has become a tradition, Kerry provided 'award winning' scones and delicious elderflower cordial for visitors.
November 2016
It's slowdown time on the plot. Some plots still have small areas with Brussels sprouts and purple sprouting broccoli but most of the plots look a bit sad.
Though, when the sun comes out the site looks a bit loved again - lawn-mowing doesn't stop yet...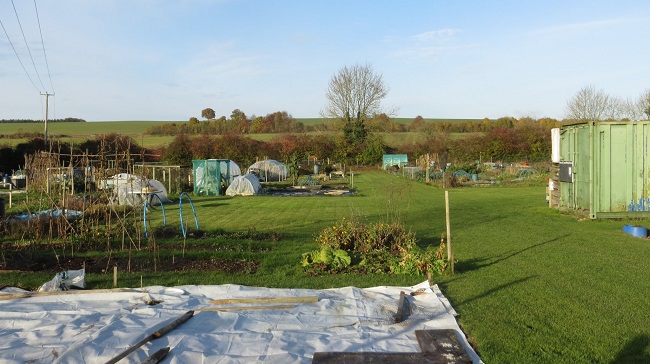 December 2016
Merry Christmas to all our plotholders!
See you in 2017!