What's happening in 2014...
We're still here and it's really beginning to look like a mature site now, in our 6th year of existence!
January 2014
Well, this year started wet much like last year, but we did have some lovely sunny days half way through the month.
February 2014
February brought storms and flooding throughout the country. The plots couldn't be worked as it was just too saturated.
We were lucky that the sun came out for the HAHA workdays and the helpful volunteers cleared the overgrown hedgerows to keep the fence in good condition and the site secure.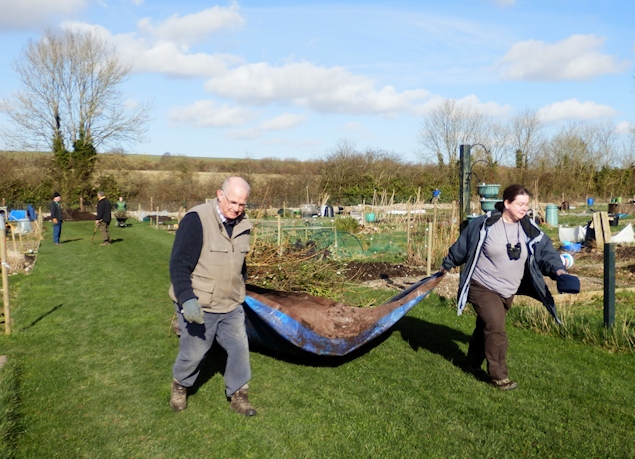 March 2014
At last a dry-ish month and sunshine, so we started seeing butterflies and more plotholders on the site.
The good weather meant we could have another HAHA workday where the waterboys worked on getting our water system cleaned and ready for the year ahead. Empty plots were cleared and the site was left looking ready for another productive year. Treats in the form of home-made cakes and hot drinks went down well in the sunshine!
April 2014
Last month's sunshine after all the rain has helped start off the growing season - seems this may be a good year...
Of course there have been showers - well, it is April and at least we have the container to run to if we're caught in one! April is always a good month to start seeing new growth on the site and lots of activity by plotholders.
May 2014
The May hedgerow has burst into life and the chives and other flowers are keeping the bees happy. The site is busy most weekends and is looking fabulous with so many productive plots.
June 2014
What a month June was, mostly sunny and pretty warm meant that the plotholders were going home with armfuls of home-grown treats. It's surely wrong to get bored with eating strawberries!
The mild winter has meant that the slugs have made it through and are everywhere. Nets and enviromesh cloches are appearing all over site - we learned our lesson last year.
At the HAHA AGM we thanked Tony Drewer-Trump for his time as chair over the last year and welcomed Geoff Greenland back on to the committee and promptly voted him in as Chair!
Welcome back Geoff!
July 2014
HAHA got a welcome mention in the Adviser - showing how much the work of the committee and other volunteers helps the community. If HAHA didn't self-manage the allotment sites it would be the responsibility of the Council to do all the organisation and maintenance.
Tremendously hot temperatures caused a couple of amazing thunderstorms and the site looked fabulous with so many plotholders also growing flowers on their plots this year.
The allotment sites were represented at the John o'Gaunt Midsummer Night's Fayre 2014, with loads of vegetables and flowers provided by generous plotholders as ever!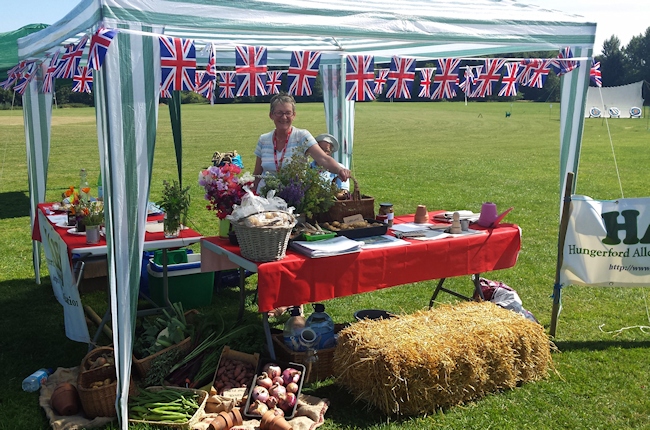 With assistance from the Town and Manor the frontage area was cleared and seeded with wildflowers. Hopefully it will provide a lovely show over the next few years. We want more than just thistles in future!
August 2014
In August we were lucky enough to have Colin de Fraine visit site with his amazing quad-copter. His video proved very popular online with over 600 plays. We hope he can visit earlier in the year next year to capture the site at it's best - but wow! It sure looks good from above!
Marsh Lane Allotments from Colin de Fraine on Vimeo.
We were lucky to get a good day for the video. August gave us torrential rain, strong winds and temperatures down to 1.5° but we also had some lovely sunshine.
September 2014
Time for the Royal British Legion Horticultural Show. Sadly there were fewer entrants this year as it was a bit later in the season so people didn't have much choice of what to show and a few people were away. However, those who attended had a good time and Neal Pike won best in show for his many wins. Well done Neal! It's a friendly casual little show, so nobody feels intimidated when their exhibits don't look as good as their competitors. In fact, there are sometimes categories that have no entries, so it's definitely worth having a go for a bit of fun and then all the exhibits are auctioned off at the end of the day.
Autumn was slow to arrive so some plots were still producing later in the season than in previous years.
October 2014
Temperatures dipped to zero in October but the nights generally stayed warm so it still didn't feel very autumnal.
The Hungerford Food Festival was a great success again, thanks to the volunteers for helping out, cooking and providing produce - another great way to advertise the benefits of having an allotment in our town.
The plotholders get very excited when these signs appear around site! Well-rotted manure has proved difficult to obtain over the years but it makes for an active few weekends once it's delivered.
November 2014
Autumn arrived! A little later than expected but what a beautiful one!
We had a few cold spells, which finished off the less hardy plants (like these nasturtiums) though no severe frosts.
December 2014
As is usual there would have been plenty of sprouts and other winter veg on the allotment holders' tables for Christmas and Santa was seen on site (thanks to the Newbury Weekly News i3d app)
Hope everyone had a happy Christmas with plenty of allotment-based pressies to enjoy next year!